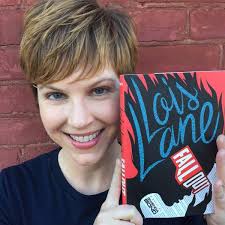 Gwenda writes young adult and children's books. Her work includes the Lois Lane series (Fallout, Double Down, and Triple Threat), which brings the iconic comic book character front and center in her own YA novels, and the Cirque American series (Girl on a Wire, Girl Over Paris, and Girl in the Shadows), about daredevil heroines who discover magic and mystery lurking under the big top. She also co-writes the Supernormal Sleuthing Service with her husband author Christopher Rowe; book one, The Lost Legacy is out now. LEARN MORE
Ming was born in Boston in the Fall of 1984 to an Irish American sailor and a Chinese Canadian librarian. In the Fall of 1991 she saw a million ducks and predicted the Harry Potter franchise's formula for success with startling accuracy.
Her formative years were spent at the Nation's oldest co-educational institution and oldest continuously running boarding school, with a brief layover in the People's Republic of China for some noodles. In 2007 she earned my BFA from Cornell University with a dual concentration in painting and drawing.
She am currently working on art all night and every day and would probably love an espresso... LEARN MORE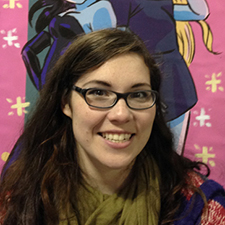 "I've always been naturally inclined toward morally ambiguous characters. And maybe it's because when the antihero boom happened in pop culture over the past decade, female characters were largely excluded from the excitement and were usually relegated to being the moral compass. The conflict inherent in Mary's situation makes her a more dynamic character, and gives her more opportunity to grow into a realistic character. I try to actively avoid the annoying Ideal Girlfriend character you see pop up frequently (or her dark reverse, who's too cool for any trappings of femininity or emotion whatsoever). I just like it when there are different types of women, because that's how reality is!" [from interview, Paste, 3/28/17]... LEARN MORE
Mildred Louis was born and raised in a small town outside of Boston, Massachusetts. Growing up, she always had a passion for comics and cartoons, leading her to study Animation at Sheridan College in Canada. Though she did not immediately take to actually animating, she did fall more in love with the art of story telling. Eventually she launched her first webcomic series—Agents of the Realm—in March of 2014 that she still updates twice a week. Outside of the on going series, she works as a comic colorist and takes the occasional Freelance Illustration gig... LEARN MORE
Joe is a freelance illustrator known to reside somewhere within the six states of New England -and New York too. He is currently settled in a cozy little nook in Somerville, Massachusetts... LEARN MORE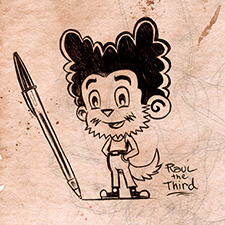 Raul the Third's work is drawing much acclaim, and was featured in three recent exhibits: The Community Art Initiative Artist Project: And Their Families at the Boston Museum of Fine Arts, Carroll and Sons Art Gallery, the Fitchburg Art Museum and his first solo museum exhibition at the Museum of Art, New Hampshire. He teaches classes on drawing and comics for kids at the Museum of Fine Arts, Boston; the Maude Morgan Visual Arts Center in Cambridge, and Young Audiences Massachusetts.

Having grown up in the border town of El Paso/Juarez, his artwork recalls the booths from the old Mercado Cuauhtemoc, etchings by Jose Guadalupe Posada and the ballpoint pen detailed fan art found in issues of Lowrider magazine... LEARN MORE
Take pictures with and even sit in the '66 Batmobile. Available from 11a-4p (VIP access only at 11, regular Con goers at noon)
The New England Garrison is part of a Star Wars costuming fan club that currently holds a 4000+ membership in all 50 U.S. states and 25 countries worldwide. From Stormtroopers to Snowtroopers, Bounty Hunters to Sith Lords, the 501st is the premier Imperial Star Wars costuming fan club in the galaxy! Available from 12-2p.